The Gone Fishin' Portfolio: A Modest Year in a Strong Decade
It's time for the annual performance update of The Gone Fishin' Portfolio, the most conservative of our award-winning Oxford Communiqué portfolios.
Why do I update it only once a year? Because this is a long-term asset allocation strategy. How the portfolio performs this month, this quarter - or even this year - is largely irrelevant.
The strategy is designed to help you conserve your assets, build your wealth and reach your long-term financial goals by beating inflation and generating above-average returns with below-average risk.
It has done this in spades.
$100,000 invested at inception in 2003 - with dividends reinvested and the portfolio rebalanced on the last day of each year - would have turned into $309,916 by the end of 2014. The same amount invested in the S&P 500 with dividends reinvested would have turned into $274,257.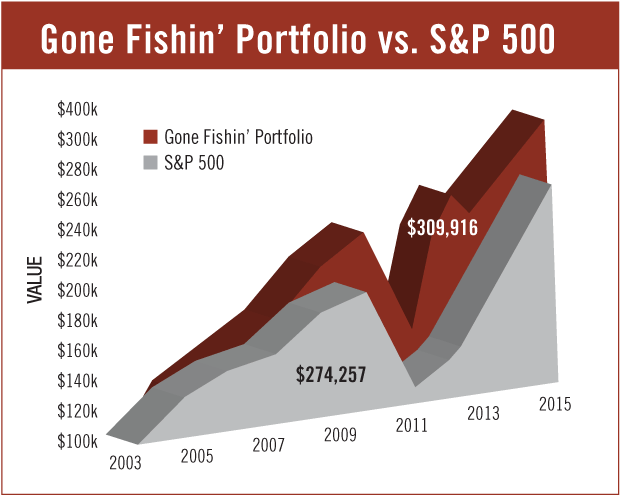 It's not just that The Gone Fishin' Portfolio has outperformed the S&P 500 over the last 12 years, it did so with far less risk than being fully invested in stocks. Only 60% of the portfolio's assets are in U.S. and international equities. Thirty percent is divided equally among high-grade bonds, high-yield bonds and inflation-adjusted Treasurys. Gold mining shares and real estate investment trusts make up the balance of the portfolio.
This unorthodox asset allocation is what has allowed us to beat the U.S. benchmark over the long haul. It is also the reason the portfolio posted a modest return last year.
The Gone Fishin' Portfolio was up 3.83% in 2014. The S&P 500 returned 13.69%.
Why the big difference? The S&P 500 is made up entirely of large cap U.S. stocks, the world's best-performing asset class again last year.
The Gone Fishin' Portfolio reduces risk by spreading your bets into several asset classes. Some years these other assets outperform the S&P. Other years they lag. Last year it was the latter.
The Vanguard European Stock Index Fund (VEURX), Vanguard Pacific Stock Index Fund (VPACX) and Vanguard Precious Metals & Mining Fund (VGPMX) all posted negative returns in 2014. The Vanguard Short-Term Investment Grade Bond Fund (VFSTX), Vanguard High-Yield Fund (VWEHX), Vanguard Inflation-Protected Securities Fund (VIPSX) and Vanguard Emerging Markets Index Fund (VEIEX) posted low single-digit returns.
I calculate The Gone Fishin' Portfolio's annual return using the original 10 Vanguard funds that represent the 10 asset classes in the portfolio: large cap U.S. stocks, small cap U.S. stocks, European stocks, Asian stocks, emerging market stocks, high-yield bonds, high-grade bonds, Treasury Inflation-Protected Securities (TIPs), precious metal mining companies and real estate investment trusts. All figures quoted are net of expenses. And I use the regular Vanguard funds, not the Admiral shares that are available to shareholders with larger balances. (If you're using the Admiral shares, your annual returns were higher.)
I also use the annual return of our benchmark - the S&P 500 - without deducting any trading costs or annual expenses. That's not possible in the real world, of course, but I want the comparison to be as stark and unprejudiced as possible.
(Do you know any other investment letter that offers a specific portfolio whose 12-year annual returns - net of costs - can be independently verified? I don't.)
One criticism of The Gone Fishin' Portfolio over the years has been that it doesn't include commodities in the asset allocation. This was not an oversight.
The long-term return on commodities is dismal. And 2014 was no exception. Gold, silver, copper, wheat, sugar, corn, cotton, soybeans, natural gas and crude oil all plunged. The Bloomberg commodity index finished December down 17%. It was its fourth consecutive negative year.
The temptation for some Gone Fishin' Portfolio investors might be to let the winning assets keep running and sell the lagging funds. That wouldn't just be counter to our strategy. It would be a big mistake.
Maintaining the original asset allocation by paring back the investments that have appreciated the most and adding the proceeds to the laggards leads to what is known as a "rebalancing bonus."
This works in both good times and bad. For example, from January 1926 through December 1940 - a period that includes the Great Depression - a portfolio of 100% U.S. stocks, with dividends reinvested, generated a total return of 81%. A portfolio of 100% U.S. government bonds returned 108%. But a rebalanced portfolio of 60% stocks and 40% bonds beat both by a wide margin, returning 146%.
Rebalancing forces you to sell high and buy low as each asset class moves through its inevitable up and down cycles. This increases your returns and reduces portfolio volatility, the Holy Grail of investing.
While it is essential that you rebalance each year, you should not do it more often. Studies show that quarterly rebalancing, for example, doesn't improve performance, can raise costs and often generates short-term capital gain tax liabilities. Rebalancing once a year - on your birthday or anniversary, for example - is the only step you need to take to maintain the portfolio.
The rest of the time you're encouraged to "go fishin'," shorthand for spending your life doing what you want rather than fretting over your investment portfolio.
When I first unveiled our Gone Fishin' strategy 12 years ago, the idea of creating an investment foundation of low-cost, tax-efficient index funds was novel. It's less so now. Investors poured $216 billion - a record inflow for any mutual-fund group - into Vanguard in 2014. That flow represents a growing trend away from active fund managers and toward so-called passive strategies that mimic indexes and other benchmarks for a fraction of the cost of the typical mutual fund.
According to Morningstar, investors pay just $0.18 for every hundred dollars they invest with Vanguard, compared with $1.24 for the average actively managed fund and $0.77 for the average index fund. You heard that right. Other mutual fund families are four to seven times as expensive as Vanguard. That's one reason it now has $3 trillion in assets under management, the most of any mutual fund group.
Exchange-traded funds (ETFs) are also growing in popularity. According to research firm XTF Inc., U.S.-listed ETFs climbed to just over $2 trillion in assets last year, adding $247 billion in new net investments. It took nearly a dozen years for ETFs to reach $200 billion in total assets. Now that much is coming in every year.
If you use a broker, feel free to construct this portfolio using ETFs instead of Vanguard funds. (Vanguard itself is a major sponsor of exchange-traded funds.) It's the specific asset allocation - not the name on the fund - that is important.
At the strategy's inception in 2003, Vanguard mutual funds and ETFs had roughly the same investment expenses. Those costs have come down over the last 12 years, but they have dropped even more with ETFs. If you're using a deep discount broker, ETFs are now the least expensive way to own this already ultra-low-cost portfolio.
Remember, all else being equal, the lower your annual investment costs, the higher your net returns.
In sum, long-term investing is a marathon not a sprint. The Gone Fishin' Portfolio had a modest year in 2014 but long-term followers of this strategy are well ahead... and beating the S&P 500 handily.
When last year's leading asset classes start to wane and the lagging classes rally, as they always do eventually, expect more years of outperformance - along with continued modest risk and low volatility.
Good investing,
Alex
P.S. For a fuller explanation of the features and benefits of The Gone Fishin' Portfolio, feel free to check out my book on the subject.