A Triumphant First Decade
Ten years ago, I created a conservative asset allocation portfolio and made several seemingly outlandish claims:
It would allow you to manage your money yourself in a highly sophisticated way, without requiring any specialized education or experience. It would require no economic forecasting, market timing or individual stock selection. It would outperform the S&P 500 over the long haul with far less risk than being fully invested in stocks. Annual performance could be easily and independently verified. It would allow you to do a complete end-run around Wall Street and its mountain of fees and expenses.
Most important, it would maximize your most valuable resource – your time – requiring less than 20 minutes a year to implement.
I called it the Gone Fishin' Portfolio and we began listing it in The Oxford Club Communiqué each month. In 2008, John Wiley and Sons published my book "The Gone Fishin' Portfolio: Get Wise, Get Wealthy… and Get On With Your Life." I was surprised by the reception. The book climbed to No. 2 on Amazon the week it was published. The next week it hit The New York Times bestseller list. A few months later, the editors at Amazon chose it as one of "The Top 10 Business and Investment Books of the Year." It has since been translated into several foreign languages, including Chinese and Korean. And the strategy continues to win new adherents. The Wall Street Journal recently asked a selection of business leaders what books they had read lately that had influenced them most. Whole Foods founder and CEO John Mackey wrote, "'The Gone Fishin' Portfolio' by Alexander Green offers a very simple strategy that has consistently beaten the S&P 500 with less risk. I am following this exact system in my own personal investing."
On December 31, our Gone Fishin' strategy hit a milestone: the end of our first decade. It was truly a trial by fire. At the outset, we were emerging from the remnants of the technology bubble and a very tough recession. But, though we couldn't have known it at the time, far harder times lay ahead, including a full-blown financial crisis and stock market collapse. Yet despite more than a few ups and downs along the way, our disciplined strategy – which requires nothing more than a specific asset allocation using Vanguard index funds (or ETFs) and an annual rebalancing – has paid off. Here is our performance, which can be confirmed by checking annual fund returns at Vanguard.com: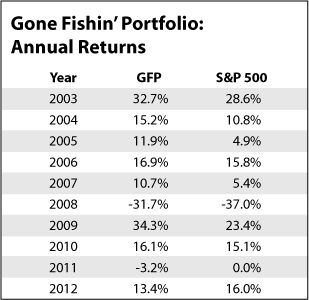 As you can see from the graph below, $100,000 invested in the S&P 500 a decade ago – with dividends reinvested – turned into $181,536. Not bad. But it required sleepless nights, nerves of steel and an ability to endure neck-snapping volatility. (If you had invested $100,000 in Berkshire Hathaway, it would have done a little better, growing to $186,194.) But the same $100,000 invested in the Gone Fishin' Portfolio turned into more than a quarter of a million dollars – $258,876 to be exact – and exposed investors to far less risk and volatility. (After all, 30% of the portfolio is invested in various types of bonds.)
In short, the Gone Fishin' Portfolio is doing exactly what it was designed to do: delivering generous returns with a low-cost, low-risk approach. This strategy is pretty ideal for conservative, longer-term investors. More aggressive investors and short-term traders might consider it as a core foundation.
The Gone Fishin' approach is not about being the biggest winner. It's about making sure you never lose. In particular, this strategy protects you from five major investment risks:
The risk of being too conservative. (Your net worth doesn't grow fast enough to exceed inflation or meet your investment goals.)
The risk of being too aggressive. (You see a substantial part of your portfolio goes up in flames.)
The risk of trying and failing to time the market (by being in for the corrections and/or out for the rallies).
The risk of using expensive fund managers who underperform their benchmarks, as three-quarters of them do each year.
The risk of unwise delegation. Bernie Madoff and his ilk can't run off with money they don't manage.
Predictions about future investment returns abound, of course. Yet no one can say with any certainty what lies ahead for the financial markets in 2013 and beyond.
However, investors in the Gone Fishin' Portfolio should feel confident. After all, they know something most investors don't. Investment success isn't about following the right predictions. It's about following the right principles. That means asset allocating properly, diversifying broadly, minimizing expenses and taxes and rebalancing regularly.
True, the investment process can be endlessly complicated. Or it can be breathtakingly simple – and still effective.
We have a decade's worth of returns to prove it.
Alexander Green